MEDI-SPEZIAL commissions AutoStore from AM Logistic Solutions
October 2021
---
Type of product:
AutoStore
---
Wholesaler for medical products expands shipping warehouse
Pharmacy wholesaler MEDI-SPEZIAL has commissioned AM Logistic Solutions to set up an AutoStore system at its headquarters in Vechta. With the system, the EU importer intends to increase its space reserves and expand 24-hour shipping.

(Offenau | Vechta, October 2021)
MEDI-SPEZIAL focuses on the parallel distribution of medical products, which the distributor imports from the European economic area. It then repackages them in a certified process in accordance with DIN 13485:2016, the manufacturer's standard for medical devices, and ships them to pharmacies throughout Germany. For this range, MEDI-SPEZIAL has more than doubled its warehouse volume in the past two years. Due to dynamic growth, the wholesaler's newly constructed warehouse building was clearly over-utilized. In addition, software solutions for path-optimized manual picking had also reached the limits of their capabilities. For this reason, the managing partners Rainer and Robert Christiansen now decided in favor of warehouse automation. With the AutoStore, which integrator and general contractor AM Logistic Solutions will implement in July 2022, they will double the storage density of their shipping warehouse and thus gain further growth reserves in the new building.
Largely system-compatible product range
Around 75 percent of the products that MEDI-SPEZIAL distributes fit perfectly into the standard containers of the AutoStore system. Starting next summer, they will be stored in 16,800 bins of the facility, which can be expanded to 23,000 bins in the future. Eight AutoStore robots in combination with three Carousel Ports ensure fast order picking. Two additional frames for future expansion are already being integrated during implementation. For incoming goods, MEDI-SPEZIAL receives two Conveyor Ports, which can also be expanded by another one. In this configuration, the system enables around 250 container tenders per hour. A special feature for the wholesaler is that the system will be installed in a temperature-controlled hall area that is kept at +20 degrees Celsius all year round – with a slight fluctuation range of ± 2 degrees Celsius. To ensure this, the AutoStore is also equipped with technology for temperature monitoring.
Speeding up order picking
MEDI-SPEZIAL expects the automated storage system to speed up order picking in particular. In the current configuration of the manual warehouse, the walking distances during order picking had become too long. In addition, the ABC structure of the product portfolio could only be mapped to a limited extent via the storage area. Therefore, the retailer expects an additional efficiency boost from the automatic ABC sortation of the AutoStore system. In addition, MEDI-SPEZIAL is also expanding its shipping area by four to a total of ten packing stations with the installation of the system. "With AutoStore, we will be able to process our shipping orders faster in the future and shorten cut-off times. We want to pass this advantage on to our customers and expand our 24-hour service," explains Managing Director Rainer Christiansen. "We are glad to have found an experienced integrator in AM Logistic Solutions to install the AutoStore system for us during ongoing warehouse operations," emphasizes project manager Christoph Mäkel. "Our team around project manager Christian Burrer organizes material procurement of all required components on time and on point, so that the installation can take place quickly and with the least possible disruption to shipping," reports Thomas Lemke from AM Logistic Solutions' AutoStore sales department.

The AutoStore warehouse from MEDI-SPEZIAL at a glance
16,800 containers (expandable to 23,000)
8 robots
3 Carousel Ports (expandable to 5)
2 Conveyor Ports (expandable to 3)
up to 250 totes per hour
Register
Please complete the form below to access this content. One of our specialists will get in touch with you shortly.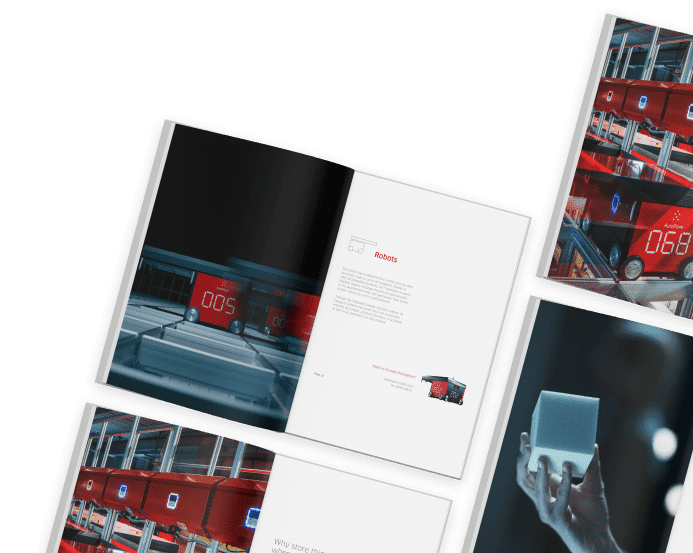 Thank you
Thank you for your registration! The requested files will be sent to you shortly.