Gebrüder LIMMERT AG expand their online-shop with AutoStore from RLS
November 2021
---
Type of product:
AutoStore
---
Growing at its location, increasing output while maintaining flexibility and storing articles much more densely: these are the goals with which Salzburg-based Gebrüder LIMMERT AG is expanding its dispatch warehouse at its headquarters. The centrepiece of the expansion will be an AutoStore system from Reesink Logistic Solutions Austria (RLS).
The electrical wholesaler is one of the largest suppliers in Austria and traditionally focuses on innovation. With noticeable success: due to the fast-growing online shop, among other things, the dispatch warehouse is approaching its capacity limit. Therefore, the company has decided to expand the storage capacity at its headquarters in Salzburg.
The special challenge here: the ground on the property of Gebrüder LIMMERT AG is particularly soft and can only bear limited loads. An expansion within the existing building was therefore out of the question. Important basic rules must also be observed for a new building. In order to be able to design the structural analysis robustly, concrete columns must be anchored in the subsoil for a new building, which support the foundation and reduce the area load. Because this procedure is much more costly than a standard building, LIMMERT opted for a small building with a particularly compact automatic storage system.
Many articles, little space, high efficiency
In the 1.000 square metre new building, RLS installs an AutoStore system with a floor space of 800 square metres. This system enables LIMMERT to more than double its storage space by 28.000 additional storage locations. This is possible because AutoStore achieves the highest possible storage density. On this floor space, 28.000 containers will be stored. For order picking, RLS has provided 28 robots and six carousel ports, each allowing a throughput of up to 400 totes per hour. LIMMERT can add another port at a later date. The frame required for this will already be installed when the system is installed.
"With the AutoStore, we are also converting order picking to the goods-to-person principle," reports Alexander Stabauer, who manages LIMMERT's logistics. "This allows the company to process its shipping orders much faster, while at the same time reducing the risk of mispicks and other process errors," explains Markus Grabner, Senior Sales Manager at RLS. Alexander Stabauer is also convinced of this potential for improvement: "We decided to work with RLS because, as the market leader in the DACH region, they have the most experience with AutoStore systems."
The AutoStore of Gebrüder LIMMERT AG in figures
800 square metres of floor space
28 robots
6 carousel ports (1 extension frame)
28.000 bins
800 container deliveries per hour
About LIMMERT Brothers
With more than 25.000 articles in stock and a total area of over 14.200 m², Gebrüder LIMMERT AG is one of the largest Austrian electrical wholesalers based in Salzburg. Many years of experience in a constantly changing market enable LIMMERT to react flexibly to new technologies and products, as well as to consistently implement the wishes of their customers.
The long-standing relationships and personal contact with the company's customers provide the motivation for full commitment every day. Both the processes and the organisation are geared towards providing the best possible service to business partners.
Flexible, always new and yet consistent and thus recognisable: Gebrüder LIMMERT Aktiengesellschaft.
About Reesink Logistic Solutions
Reesink Logistic Solutions is part of Royal Reesink and is one of the top 3 AutoStore integrators worldwide with over 110 successfully delivered AutoStore projects. The RLS companies focus on maintaining the highest quality standards while bringing unique solutions to each project by implementing customised planning and proper integration of the AutoStore system into each warehouse.
With in-depth knowledge and years of experience, RLS companies can support the connection to any ERP/WMS system or implement their own customised PLC software called LogiCS. The AutoStore system is optimally used with the help of this brand new and intuitive LogiCS user interface. It revolutionises the market with a fresh approach and the "less is more" philosophy. 24/7 service and maintenance is available for all customers, making the RLS companies very reliable and always available partners.
The RLS companies have carried out successful projects for customers such as Lufthansa, Siemens, Bosch Rexroth, UPS, PostNL, Patrick, L-Shop, Knauf, Campina and Roto Frank.
Register
Please complete the form below to access this content. One of our specialists will get in touch with you shortly.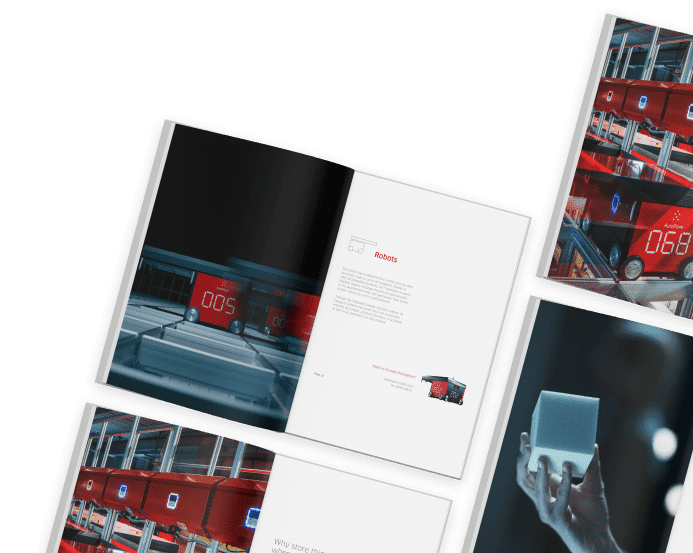 Thank you
Thank you for your registration! The requested files will be sent to you shortly.