Reesink Logistic Solutions expands to Poland and Austria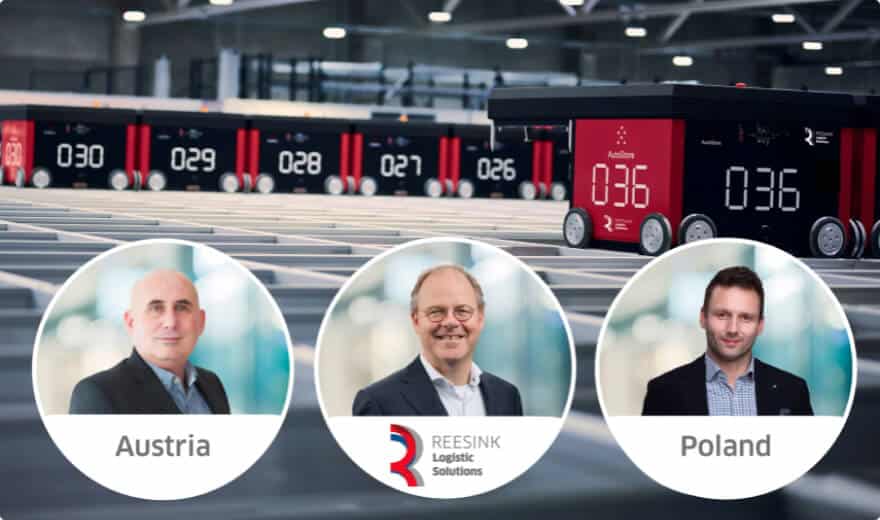 Reesink Logistic Solutions (RLS) is one of Europe's top warehousing solutions integrators. After launching its rebranded two main companies in December last year, RLS started working on its European expansion. As such, Reesink Logistic Solutions Austria GmbH and Reesink Logistic Solutions Poland Sp. z o. o. are being officially launched today, as licensed AutoStore integrators for Central and Eastern Europe.
AM Logistic Solutions in Germany and Lalesse Logistic Solutions in the Netherlands, are market leaders in the distribution and integration of AutoStore systems, with a 50% market share in the DACH region and 40% market share in the BeNeLux area. The two companies joining forces has turned them into an even stronger warehousing solutions provider, especially for the fast-moving retail market.
"This expansion that we are announcing today is a natural development for us. We try to remain agile toward the market's need and that is why expanding to Poland and Austria seems to be a heathy next step both for our business, but most importantly for that of our potential customers in these new markets"

said Gert Bossink, Division Director of Reesink Logistic Solutions.
Recent developments in the European economy due to the COVID-19 pandemic have strengthened even more the already stated "industry 4.0" objectives, paving the way for full automated warehouses and further digitalization. How to optimize order fulfilment to offer the end-consumer next-day-delivery services, has never been more present. And one of the most impactful solutions to this matter is a proper material flow within the warehouse. "Increasing throughput and storage density, while securing the inventory and making optimal use of time and space within the warehouse is definitely the main challenge nowadays. And the best answer until now remains the AutoStore system that solves all these issues by applying the goods-to-person principle. This way not only the stocks are safer, but also the employees and warehousing processes are" added Gert Bossink.
A strong anchor in Austria
That is why Reesink Logistic Solutions decided to spread its horizons and share its extensive know-how in other European countries as well. A first and natural choice was Austria, where Markus Grabner is now Senior Sales Manager for Reesink Logistic Solutions Austria and has great confidence in this expansion:
"I am confident that our anchoring in the Austrian warehousing solutions market will speed up the country's automation and digitalization aspirations. The AutoStore system is really unbeatable on the small-parts market, but planning it, building it and maintaining it with a reliable and competent partner is what brings the utmost efficiency out of this fantastic tool."
The right partner at the right time"The compactness and simplicity of the system are absolutely convincing; it is also enormously reliable and fits our processes perfectly. In short, we would choose AutoStore again and again,"
Whereas Austria has already tasted the advantages of having an AutoStore system for small-parts warehousing, in Poland this phenomenon is just getting started. Maciej Ornowski, Managing Director of Reesink Logistic Solutions Poland:
"Poland is a high-tech country and people are very enthusiastic about technological breakthroughs here, so I am actually very excited about entering the Polish market with the AutoStore system.

This product is technically impeccable – intelligent, fast and easily scalable. And the fact that the ROI

can be achieved even under 4 years, makes it also extremely attractive from a business point of view. Therefore, I can only be very optimistic about how the market will receive it".